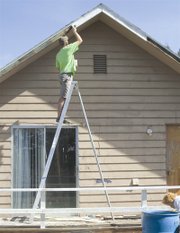 "Thank you with all my heart," Emelia Rivera said as a team of volunteers spruced up her home on North 13th Street in Sunnyside. "God bless everyone who made this possible."
Rivera's was one of the homes painted and updated last Saturday during the fifth annual home transformation event organized by the Loving Sunnyside Initiative and Sunnyside Transformation Yakima Valley.
"It's a huge blessing," Rivera said with translation help from daughter Maria "Tammy" Rivera.
The younger Rivera was here from Portland, Ore. on Saturday to help out. She said her mother is in her 70s and cares for a grandson. She said like many in the Lower Valley, her mother lives paycheck to paycheck and that makes it difficult to even consider home maintenance.
Efforts like the home transformations on Saturday helped renew the younger Rivera's hope for Sunnyside and the Lower Valley community.
"To me, it's amazing. It tells me that people care about Sunnyside and they are coming together," said Rivera.
That sentiment was echoed by Sunnyside Christian High School science teacher Neil Karsten. "It's a chance to get involved in the community and help out our neighbors," Karsten said as he helped put a coat of fresh paint on Esmeralda Yanez's home on Federal Way.
"I can't afford to paint my home, so it's great this group is able to help," Yanez said, as she helped paint her home in the morning sun on Saturday.
The spirit of service extended from generation to generation, as young and old worked side by side to give a fresh look to homes and neighborhoods around town.
"We just want to help and make Sunnyside a better place," said volunteer Jeff Bosma as he worked on Rivera's home.
Bosma's 12-year-old son, Cade, added, "I want to help my dad."
It was all about helping and putting love for the community into action.
"It's really nice to be able to help people," said Lisa Leyendekker as she worked on Yanez's home. "It's good to show that we care."