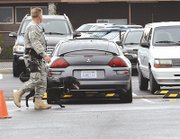 At approximately 1 p.m. yesterday (Monday) an anonymous caller made a bomb threat, targeting Sunnyside High School.
That's according to Superintendent of Schools Dr. Rick Cole.
He said it is believed the call originated at a convenience store on North Avenue.
Lockdown procedures were initiated at all the schools within the Sunnyside School District and the high school was evacuated.
Students from Sunnyside High School were moved to Harrison Middle School and Sunnyside Christian Reformed Church.
Del Dykstra, spokesman for Sunnyside Christian Schools, said both the Christian elementary and high school were locked down following a call from the Sunnyside Police Department.
"We went into lockdown for approximately 45 minutes to an hour," he said, stating he believes Sunnyside Christian Schools were notified of the threat because of the origin of the call.
"We kept all students in their respective classrooms until the police gave us the 'all clear'," said Dykstra.
The elementary and middle schools in the Sunnyside School District, said Cole, stayed in lockdown until school was released.
Sunnyside High School students remained at Harrison Middle School and the church until just after 3 p.m. At that time, students wanting to retrieve backpacks and other personal items from their classrooms and the school building were allowed to do so.
While the schools were in lockdown, a K-9 unit from Hanford Patrol was called in to assess the high school. The dog is a bomb sniffing K-9, specializing in explosives.
Officers with the Hanford Patrol conducted a search of the vehicles parked at the high school and proceeded to search the school building.
However, say police, nothing was found.
Cole said, "We took this threat very seriously."
In addition to classes being disrupted, he said construction personnel were also evacuated from the premises.
Everyone agreed they were relieved that the threat was not real.
Cole said it is always important to err on the side of caution, however.