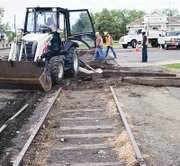 The City of Sunnyside and Central Washington Railroad are working together to remove an old set of railroad tracks on Grant Avenue.
The work includes removing existing asphalt and tracks and replacing it with new hot-mix asphalt.
Work began this past Monday and Grant Avenue will be closed from Fourth Street to Fifth Street through this Friday, May 25.
For more information or questions, call the Public Works Department at (509) 837-5206.