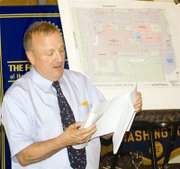 Criticizing a recent personal column by John Fannin printed on the opinion pages in the Daily Sun News, Sunnyside School District Superintendent Dr. Rick Cole seemed almost wistful.
"I wish he had mentioned how great our students have been," he said. "This is a pretty amazing thing for the staff and students at the high school, to go through this modernization project during the school year."
Cole spoke at the Sunnyside Noon Rotary Club meeting about the district's construction projects, particularly the ongoing construction at the high school.
The recent additions to the high school were planned with expansion in mind from the start, according to Cole. As he spoke to the group, he pointed out the new additions on a map of the school.
Two sections were added to the main building of the school: a new administration area and the "black box" rehearsal room near the auditorium. A new two-story building was also added, and that building was designed from the start to have an addition on the east side of the building.
"If you've visited the building, you can see how that whole wall can just be removed and a new section added," Cole said.
Furthermore, the district has been planning to expand as funds become available from the state.
"We always build to the eligible square footage," Cole said. He went on to explain that the state gives money to districts based on enrollment. By building this way, state money funds 90 percent of the building project.
"When you can get $2.3 million of new construction for $200,000, you have to agree that's a good deal," he said.
Cole said the district is growing roughly at a rate of 200 students per year. To put that into more tangible terms, he described it as 10 teachers and 50 classrooms a year.
At the moment, however, the district is not even using all the space at the high school because large portions of the building are still in the process of being modernized. He pointed out areas of the building that are currently still closed, noting that by next fall the school will have access to all its space.
In addition to the construction at the high school, the district has two other construction projects going forward, said Cole. A new building that will house the YV-Tech program will be built out near the bus garage and a student health center will be opened on the high school grounds near the baseball field.