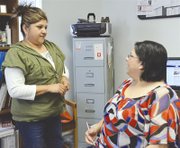 Lower Valley Crisis and Support Services Domestic Violence Advocate Rosalinda Alvarez started her career with the agency giving her time and love to clients without monetary compensation.
She said her job has always been about helping those who are unable to help themselves.
"It's rewarding to help domestic violence victims get access to resources...to let them know they have a voice and empowering them," said Alvarez.
She began volunteering her time nearly 20 years ago. As a volunteer she was able to learn and obtain the training necessary to become a full-time advocate.
"I had good teachers," said Alvarez.
As a domestic violence advocate, she is on call 24 hours a day, 365 days per year.
"Domestic violence doesn't take a vacation," Alvarez said.
It was 10 years ago that she began working for Lower Valley Crisis and Support Services full-time. She provides counseling, support, safety planning and legal advocacy for clients seeking services from the agency.
Legal advocacy involves helping the client get to and from court when seeking a protection order, said Alvarez.
She said her work requires working in partnership with other agencies because many of those agencies refer clients to Lower Valley Crisis and Support Services. The agencies include law enforcement, hospitals, pastors and other professionals that come in contact with individuals who may be victims of domestic assault.
"Clients can call the agency's hotline or walk in, as well," said Alvarez.
"A lot of people don't know what an advocate is," she said, stating there are people who don't realize they have the right to feel safe.
As a result, those individuals don't always seek the support and resources needed to get out of a dangerous living environment.
"We are there for the safety of the client, any children in the home and the animals...sometimes people won't leave a dangerous living arrangement because they are afraid of what will happen to the animals, but we can help clients get protection orders for the animals, too," Alvarez said.
She said it is painful to see how much people are willing to endure and the pain that is sometime inflicted on loved ones, "...especially the children."
Alvarez said there are many situations she has encountered that involve parents who don't believe the children are impacted by the harmful words and actions of the adults in the home.
"Children can hear what's going on through the walls," she said.
"In the end, it is my goal to help promote awareness of the impact domestic violence has on the lives of individuals and the community," said Alvarez.