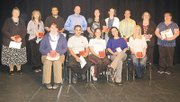 During a special meeting last night, Tuesday, in the SHS auditorium, the Sunnyside School District presented the following employees with Golden Apples for their work during the 2011-12 school year. Also included is the description of why they were nominated.
Support Staff
Alberto Mercado, transportation, was recognized for his contributions as lead mechanic.
Hector Guzman, technology, was honored for his work on the district's phone system and streamlining the lock-down notification process. "What once took upwards of six minutes to notify all staff in all buildings of a lock-down, is now done instantaneously. This has helped make our schools a safer place to work and learn."
Secretary
Charla Graff, district office, was recognized for her work ethic and dependability. "She is a self-starter and helps manage the curriculum, instruction and assessment office efficiently and effectively. This year she her areas of responsibility has increased, assisting with the oversight and management of all district-wide state assessments."
Anna Maldonado, Outlook Elementary School, was awarded a Golden Apple for her welcoming and professional manner. "Anna is a self-directed learner and is consistently studying ways to enhance her performance."
Specialist
Deb Dale, Harrison Middle School, was selected for her positive relationships and going the extra mile for students. "Deb is able to work in a complex system and yet not become so rigid that she can't relate to the individual student."
Para Educator
Tracy Bunch, Washington Elementary School, was selected as one of the para-educators of the year for her dedication to special needs children. "She values each student. Tracy takes on many difficult tasks without hesitation. Every day the work of a LAC room demands flexibility. Tracy is very flexible and assists her team in adjusting their daily plan to meet student needs. The support she provides to individual needs helps them achieve their goals. Her ability to bring a smile to the faces of these special children is a true gift of love."
Heather Hazzard, Sierra Vista Middle School, was also honored for being responsible, reliable, organized, flexible and caring. "She is an excellent para pro and often goes above and beyond for the students we serve. In the classroom, Heather needs very little direction and is able to expand any given lesson as needed to present the concept a different way in order to ensure our students are learning."
Michelle Hutson, Sunnyside High School, was also selected for a para educator Golden Apple for demonstrating her belief that all students can be successful.
"She takes ideas and runs with them, making time at home to create activities that will supplement and help kids."
Elementary Teacher
Jessica Schenck, Chief Kamiakin Elementary School, was honored for her passion for science, as well as her participation in NASA's Teacher Space Academy and the ExxonMobil academy for teachers.
"Jessica's passion is science, having wanted to be an oceanographer when she first attended college. This passion led Jessica to be the one who first questioned one of the science kits being taught in fifth grade, citing that it did not align to state standards. She kept questioning and contacting ESD officials and eventually the kit was replaced with one that was more aligned. She then agreed to become an ESD science trainer for that new kit, teaching other teachers tips about lesson delivery."
Secondary Teacher
Josh Schlegel, Harrison Middle School, was tabbed as a secondary teacher of the year for his impact in the school's math department and on math scores.
"Through his stewardship and dedication, not only has Harrison seen significant math gains, but the culture of the student body has changed. Where math used to be a subject of disdain, it is now a preferred if not the preferred class. A huge reason for this is success, breeding success."
Stacy Alseth, Sunnyside High School, also earned a Golden Apple for her connection with students. "Stacy is compassionate. She has great rapport with the students. She is filled with energy and full of positive reinforcements for the students."
Emma Saucedo, Sunnyside High School, was the third secondary teacher of the year selected. She was selected for her leadership and mentoring skills.
"She is dedicated to both the school's goals and the futures of her students and I have never seen a teacher so committed to obtaining relational trust with her students."
Substitute Teacher
Karen Edes was honored for her ability to follow lesson plans with accuracy and fluency.
"Karen works well with middle school aged kids. She has incredible classroom management skills and the kids love her!"
Volunteer
Jean Guyer, Washington Elementary School, was one of two volunteers selected this year for Golden Apples.
"Aunt Jean should be considered volunteer of the year because of her commitment to all students success. She comes to school three days a week from 9 a.m. to 4 p.m."
Anselmo Gaspar, Sunnyside High School, was honored as a volunteer for his work with at-risk students. "His active involvement in the Migrant PAC and as one of the first members of the Truancy Board at SHS makes him a patron that is not afraid to step up and help in the work of our school and district."
Administrator
Curtis Campbell, Executive Services Department, was selected for his support of the superintendent's office, communication publications and safety preparations for emergency situations. "Besides being an outstanding district employee, this individual is active in the community, serving on the board for Sunnyside's Promise and Relay for Life among other volunteer organizations."