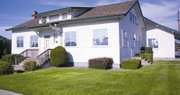 The Washington Trust for Historic Preservation announced their annual list of most endangered historic properties in the state of Washington, and a Sunnyside building is high on the list.
The Sunnyside Headquarters Building at the southwest corner of Franklin Avenue and Ninth Street made the list due to a proposed demolition plan that was scrapped. The concern for the future of the building remains.
In its description of the building, the trust stated that it was built in 1908 to serve as the headquarters of the Sunnyside Division of the Yakima Irrigation Project.
"Presently, the building stands as the most intact remaining Reclamation structure associated with early twentieth century efforts to irrigate the Yakima Valley," reported the trust.
The building is currently owned by Sunnyside Community Hospital. The Sunnyside Museum has expressed interest in moving the building to vacant land near the museum and has been working with the hospital on plans for relocation and preservation.
The trust also named Washington's State Park System and its resources, including more than 600 historic buildings, as the most endangered due to budget cuts that prevent proper maintenance of the parks.
Six other locations were named as endangered by the nonprofit Washington Trust for Historic Preservation, including buildings in Blaine, Seattle, Ellensburg, Vancouver and Spokane.