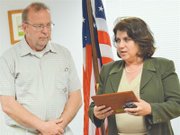 Former Sunnyside Police Chief Ed Radder, a member of Sunnyside's Promise, was Thursday recognized by the Sunnyside School Board for his belief in Sunnyside's youth.
School Board Director Sandra Linde presented him with an award, stating, "He always reminded us, 'What does this child mean?'"
She said Radder has always seen the potential in each and every child in the community.
Radder spoke briefly, saying some in the community have approached him, asking if he will remain living here.
He joked, "There's probably a bunch of you who wish I'd leave because of what I know about you."
Radder was presented the Washington Association of School Administrators Community Leadership award for helping Sunnyside's youth through intervention and prevention efforts.