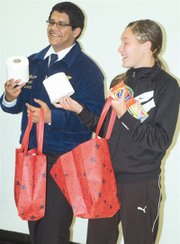 MABTON - At this year's Mabton FFA awards ceremony, students were awarded for demonstrating "...brotherhood, honoring agricultural opportunities and responsibilities, and developing qualities of leadership."
Students also worked diligently this year, competing in several events at the State level. Several students were recognized at this past Wednesday evening's awards banquet as "members in good standing."
In addition, discovery degrees were awarded to the students who have been enrolled in an agricultural class for a portion of the school year while in seventh or eighth grades. Students awarded the discovery degrees include Jessica Vazquez, Giovani Sagrero, Lucio Benavidez, Maria Navarrete, Miguel Navarrete, Rocky Arriaga, Brianda Macedo, Joel Chavez and Anadely Flores.
The star discovery degree was awarded to Jessica Vazquez for being the most active seventh or eighth grader and who has demonstrated outstanding leadership skills.
The greenhand degree is annually awarded to students to have learned and explained the FFA motto, salute, creed, emblem, colors, code of ethics and official dress. In addition, greenhand degree recipients have completed satisfactory plans for a supervised agricultural experience program. Recipients included Edson Rivera, Jose Cruz and Hector Adame.
The star greenhand degree was awarded to Jose Cruz for being the most active high school first-year member of the Mabton FFA Chapter.
Cruz helped facilitate the Central Washington State Fair booth, was a member of the agricultural issues team, livestock judging team and veterinarian technology team. He also was involved in numerous community service projects, developed an animal science research project and attended several FFA events throughout the year.
The third degree earned as an FFA member is the chapter degree. This award is for students who have participated in at least three FFA chapter activities, completed a minimum of 10 hours of community service and earned and productively invested at least $150, or have worked at least 45 hours outside of the scheduled class time on FFA projects.
Students earning the chapter degree included Soledad Echibarria, Vanessa Sanchez, Ty Leyendekker, Jesenia Meza and AJ Sanchez. This year's star chapter degree was awarded to two individuals; Vanessa Sanchez and Ty Leyendekker.
The DeKalb Leadership Award is sponsored by the DeKalb Corporation and awarded each year to the outstanding senior member of the chapter. The award is based upon the member's participation in FFA activities, other school activities, community activities and scholarship and agricultural projects. The DeKalb award recipients included Nohemi Meza and Karen Mendoza.
Meza is the local chapter's vice president, the high school greenhouse manager and co-project leader of the FARM team. She also participated in the livestock judging team and in all FFA community service projects.
Mendoza is the chapter president and has led two canned food drive projects, headed the Central Washington State Fair booth committee and attended numerous FFA activities.
Mabton senior Jazzee Sustaita earned the agricultural education proficiency award for developing lesson plans for elementary-aged special education students. She also assisted in teaching the lessons to kindergarten through fifth graders at Mabton's Artz-Fox Elementary School. She initiated contact with the school and scheduled the times to teach agri-science lessons.
The dairy production proficiency award was given to Ty Leyendekker, who works on his family dairy.
Nohemi Meza was the recipient of the floriculture proficiency award. Her fellow students noted that Meza has spent "countless" hours in the greenhouse propagating, transplanting and watering plants before and after school and on the weekends.
She helped with the marketing and sale of the plants, and during the FFA's annual plant sale. She also facilitated and worked with all floral sales in the Mabton High School Floral Shop.
Meza also received the swine production proficiency award for raising high-quality market hogs. This was her second year raising swine. Students say she enjoyed the project so much that she plans to work at the Washington State University swine center this coming August while she attends school at the university.
Students also showed appreciation for community members and organizations that supported and promoted the Mabton FFA Chapter.
Community members receiving a certificate of appreciation and a plant to take home included Olga Parulkar, Leslie Chase, Cindy and Andy Howe, Carol Ashby, Brock Ledgerwood, Northwest Horticulture, Hank and Blanche Tobin, Daily Sun News, Loretta Stewart, Sue Sartain, Jose Elizondo, Mike Surmeyer, Minerva Morales, Daniece and Bill Roettger, Jose Meza, Nick Sustaita, Vickie Navarro, Teresa Vargas, Amy Scott, Rick Kernan and Veronica Prieto.
The honorary degree was awarded to Shandee and Jesus Sustaita.
The National FFA Organization bestows awards for adults each year at the national convention. The awards are given to exceptional teachers, individuals and companies who have demonstrated continued success and support of the FFA and agricultural education.
The Sustaita's will be invited to participate in an award ceremony and to receive recognition at the national convention.
At the end of the meeting new 2012-13 chapter officers were also installed.