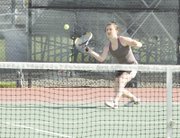 On a nice sunny morning only marred by a brisk wind, the Sunnyside Tennis Club hosted its first tournament of 2012 this past Saturday, drawing more than 30 participants in four divisions.
The competitors faced off in easy-going battles at the courts near Sunnyside High School. The games continued on Sunday morning after a full day of action on Saturday.
In the women's singles division, Gabby Sauve of Mabton earned the top spot by defeating Dolores Gomez of Grandview in the final round on Sunday morning. Sauve took the match in two sets, 6-2, 6-4.
Robert Bjur of Zillah took the top spot in the men's singles division, beating Ryan Rodriguez of Grandview by twin scores of 6-4.
The men's double division was won by Charlie Plesha of Sunnyside and Macario Solis of Grandview. The pair won its final match against the team of Aaron Avalos of Toppenish and Greg Shank of Yakima in three hard-fought sets, 5-7, 6-3, 6-4.
In the mixed doubles division, Jaime Garcia and Alenka Plesha of Sunnyside took the title after defeating Robert Bjur of Zillah and Andrea Padilla of Toppenish in a drawn out battle.
Bjur and Padilla took the first set 7-6 (7-3), but Garcia and Plesha came back to win the second 6-4. The deciding set also went into extra points, this time going to Garcia and Plesha 7-6 (7-3).