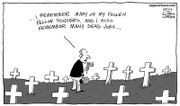 A sportswriter's column had one of the best overviews of Memorial Day I've read in a while.
One of my routines each Monday morning before leaving the house is reading Peter King's column on Sports Illustrated's website. He calls it "Monday Morning Quarterback," and each week offers tidbits about the NFL and life beyond.
Before he delved into his bag of NFL goodies, King's edition this week featured a nice summary of Memorial Day's origins in the aftermath of the Civil War.
Joni and I had already planned a sunny country drive out to the Outlook Cemetery...and King's words only encouraged me to follow through with that plan. We admired and appreciated the many grave stones with U.S. flags on them, marking those who served in the U.S. military.
We were also moved by the many markers we saw of those who lived precious few years on this earth. Young people in their 20s, some were infants just weeks old. Many of young lives were ended 80, 90 and even more than 100 years ago.
It's obvious that the Outlook Cemetery is a labor of love for the volunteers who keep it tidy and manicured.
It's a relatively quiet spot, save for the nearby road traffic. It's a bucolic break from today's go-go, connected lifestyle.
Thanks to those who keep the Outlook Cemetery going strong...and a special tip of the hat to Mr. King for putting Memorial Day Monday into perspective.