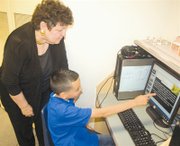 MABTON - There was no Google or Wikipedia for Nicholas Mejia's project to meet a state digital learning requirement.
The Mabton sixth grader went above and beyond the basic requirements of internet research to conduct 10 hours of live interviews with scientists at Hanford.
"My grandma worked at Hanford and it seemed interesting," Mejia said of nuclear radiation as the theme of his digital project. "It (radiation) can kill you in two days to two weeks, but it's also used for medicine and space exploration."
His focus in traveling to the Hanford Nuclear Reservation was to learn about the problems associated with leaks and storage of nuclear waste.
Mejia quizzed seven scientists at Hanford over a period of 10 hours earlier this month for his digital project. Due to security concerns he couldn't take pictures or film the exchange, so all 10 hours were captured on tape which he used for his research.
Tamara Steen is Mejia's digital technology teacher at Artz-Fox Elementary School in Mabton, and she says the extra effort is impressive.
She says her students were assigned to research a project dealing with global issues. Students could use the internet for their research in developing a power point display.
The idea is for students to show they understand basic computer and keyboarding skills.
Mejia, she says, took the project light years ahead in doing his research off-campus, then bringing it back to develop a digital presentation.
"He could have looked it up on the computer here, but he chose to do it from the perspective of the people who work with nuclear radiation," she says. "Ten hours of interviews in one day is an extraordinary amount of work and focus for someone who's 11 years old."
Steen's not the only one impressed with the cheerful sixth grader.
"I'm so proud of him, incredibly impressed with him," said his mother, Melissa.
So are the scientists at Hanford, some of whom were even stumped by Mejia's questions.
"They told me to get my degree and come back to work for them," he smiled.
His work not only identified the issues associated with storing nuclear waste - such as potential leaks from storage tanks - but has also made him an advocate for raising the billions of dollars it costs to build a vitrification plant at Hanford that turns nuclear waste into glass-like material that can be stored safely.
Just as his efforts went above and beyond the basic requirements, so too are the benefits Mejia reaped from his extra work.
"Some of the people I talked to at Hanford didn't think they would be able to go to college but they did," said Mejia, who wants to be an environmental scientist. "Then I realized I could, too."