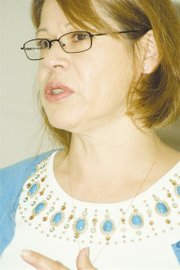 Kindergarten students at Sun Valley Elementary School in Sunnyside have been entering school with only 19 percent of the students meeting grade level skills.
That means nearly 81 percent of students are coming into kindergarten without the ability to count to 10 and the ability to recognize the letters of the alphabet.
After a successful year of the WaKIDS (Washington Kindergarten Inventory of Developing Skills) pilot program in 2010-11, the administrators at Sun Valley Elementary School are seeing a positive return, according to Principal Janie Hernandez. She told Daybreak Rotarians this past Wednesday morning that kinder students statewide are going to be assessed the same way, ensuring by the time they reach the first grade, students will be ready.
Before school starts, kindergarten teachers will meet with families and early learning providers to talk about each child's strengths and needs. In the fall, kindergarten teachers will complete a more formal assessment of each child's skills: social, emotional, physical, cognitive and linguistic.
Hernandez says all kinder teachers will be "speaking the same language.
"It's a measure of accountability," she added.
Sun Valley Elementary School Vice Principal Esteban Florian says since the program's inception, teachers are giving their full participation.
"Teachers are 200 percent participating and making sure the kids are ready," he said.
Florian added that the excitement for reading and learning at Sun Valley is apparent in students, teachers and families.
The purpose of WaKIDS is to provide families, early learning providers and kindergarten teachers a more formal process for sharing information, so that children receive the support they need to be successful in school. The program is not, however, a tool to determine whether or not a student should be able to enroll in kinder classes.
Teachers will also undergo a training seminar this August to further ensure assessment techniques are the same statewide.
Students are receiving this program, says Hernandez, through state, federal and private funding. The Office of the Superintendent of Public Instruction and the Department of Early Learning are working together to oversee WaKIDS. Private partners include Thrive by Five Washington and the Bill and Melinda Gates Foundation.