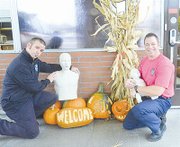 Those seeking to obtain CPR and first aid certification can do so on Saturday, Nov. 17, at the Sunnyside Fire Department.
Basic CPR and first aid training will be taught by Fireman/Paramedic Ryan Savage and other certified trainers, using both infant and adult CPR dummies. Also, there will be several video-based scenarios presented for training purposes.
Savage said there are currently 10 open spots in the class, but additional openings can be made with advanced notification.
The five to six-hour class is being offered at the cost of $25 per person. Training begins at 9 a.m. on Nov. 17.
All who pass the class will be presented an American Heart Association certification card.
To pre-register or for more information, call 837-3999.