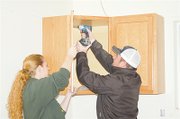 A half dozen volunteers from RDO Equipment spent Halloween day working on the Habitat for Humanity house in Sunnyside.
The volunteers arrived first thing in the morning and spent hours installing floors and cabinets under the supervision of Kara Lowe of Habitat for Humanity.
The charitable organization relies on donations and volunteers to provide simple homes to people in need.
Lowe has been working on the house since construction started, along with Maria Ramos, who will be moving into the house with her children after it is completed.
"She's been putting a lot of effort into it," Lowe said of Ramos.
The home is nearly done. Lowe says another home is being worked on in Yakima and she thinks another project will be started somewhere in the Lower Valley in the next few months.
"Keep coming and volunteering," she said. "We can use all the people we can get."