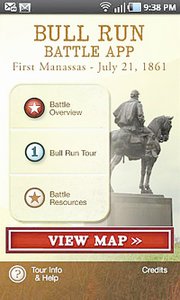 If you don't know what a sesquicentennial is you're about to find out, as over the next few years there will be several commemorations of the 150th anniversary of various battles and events associated with the Civil War.
The Civil War lasted from 1861 to 1865, so we still have a few years of commemorating to do.
The benefit for the public is that mobile technology is being used to the hilt.
That includes a host of apps available online at www.civilwar.org/battleapps that really bring to life this crucial era in our nation's history.
The apps, for nine battles in all, are free and available for both Android and Apple phones and tablets. They were produced for the Civil War Trust (civilwar.org) which has as its goal preserving lands and markers associated with the battlefields.
For the purposes of this review I'll reference the Gettysburg app as next July will mark the 150th anniversary of this watershed battle.
The app is GPS enabled, and allows users to discover insights into the battlefield while touring the site.
For those unable to visit the battlefield in person, there is still a host of options to explore related to Gettysburg. The app contains audio accounts of soldiers from the battle and video discussions by historians.
Also of interest for the user will be animated maps, photos and crucial facts about the Battle of Gettysburg, bringing places like the Devil's Den and Little Round Top to life for the digital generation.
There are also quizzes and the ability to track where Union and Confederate soldiers were at during various stages of the battle.
If you don't have a smart phone or a tablet the Civil War Trust has plenty of apps right on its website, such as a virtual 360-degree panoramic tour of Antietam that includes an animated map.
If you're a history buff, civilwar.org's apps are a must.
For those who didn't enjoy textbook history in school, the battlefield apps will bring a whole new appreciation of the Civil War and the sacrifices made to keep the Union whole.