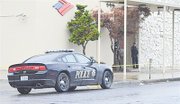 Sunnyside police, Yakima County Sheriff's deputies and FBI detectives are searching for a man who's responsible for robbing the Sunnyside branch of Bank of America yesterday (Thursday) just after the bank opened at 9 a.m.
Ayn Sandalo Dietrich is the FBI Seattle Office media contact. She said the suspect is believed to be Hispanic. He was wearing a black jacket and beanie at the time of the robbery, which was committed at the drive-through window of Bank of America at the corner of East Decatur Avenue and South Seventh Street.
Dietrich said the teller working at the window received a note, threatening her safety, delivered through the drive-through window.
The suspect was covering his face with a hand, according to witness statements provided to the FBI.
Dietrich said no weapon was reported to have been displayed, but the teller complied with the demands listed on the note and gave the suspect an undisclosed amount of money.
The suspect left the bank and authorities later found the vehicle described by witnesses. It was found in an orchard just outside Sunnyside city limits.
Officials are continuing to follow leads as they investigate the case.
Dietrich said anyone with information that can help identify the suspect is urged to call the FBI at 206-622-0460 or Crime Stoppers at 1-800-222-TIPS (8477).
Callers to Crime Stoppers may remain anonymous and are eligible to receive a cash reward of up to $1,000 if the information provided leads to an arrest and conviction of the person or persons involved in this crime.