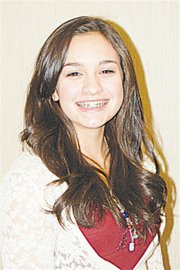 Sunnyside High School sophomore Jacqueline Kranz admits one of the reasons she wanted to be on the city's board of parks and recreation was because her sister had been on it last year.
"I really like following my sister," said Kranz. "She's my role model."
As a sophomore, Kranz hopes to be able to represent the younger citizens of Sunnyside for some time to come. She hopes to stay on the board throughout her high school career.
Kranz plans to be an elementary school teacher when she's older. She said she likes the younger grades.
"They are still, in a sense, the sweet ones," she said.
As for her goals on the board, she hopes to be able to provide input from the younger point of view and stay in touch with the progress in the community.
"I like to be involved in the community in every way I can," she said. "I think the board is getting more on track, getting it more under control. I hope to be part of it."