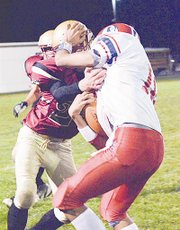 The Sunnyside Christian football team ended its season last night with a 60-20 loss to the visiting Touchet Indians.
The Knights battled their opponents in the first half of the game, keeping the score within 10 points.
The halftime score was 24-14 in favor of the Indians.
Throughout the opening quarters Sunnyside Christian's defensive line attempted to shut down the Touchet offense. The Indians, though, found holes in the line and exploited the openings.
That's what provided Touchet the advantage, according to Sunnyside Christian Coach Ray Hernandez.
"I am proud we held in there with them," he said of the opening half of the game.
He admitted Touchet was adept at reading the defense and finding defensive breakdowns.
The Indians capitalized on the opportunities provided by those breakdowns.
Sunnyside Christian, however, battled back.
Seniors Drew Puterbaugh and John Newhouse each scored touchdowns for the Knights in the first half.
Puterbaugh connected with QB Wyatt Hoff on a touchdown pass and Newhouse, who is adept at running the ball, rushed the ball into the end zone.
Newhouse recorded 29 carries for 122 yards last night.
"We set up the play action passes to Luke Wavrin after John Newhouse took a heavy hit to the hip in the third quarter," said Hernandez, stating some adjustments to the offense had to be made in the third quarter.
Wavrin, who recorded 75 rushing yards on 18 carries, tried to slip the ball up the middle, but was eventually shut down by the Indian defense.
Wavrin did, though, reach the 1,000-yard rushing mark for the season against Touchet.
Hoff turned to Brandon Broersma for help and the duo connected on a pass that led to a third touchdown for the Knights in the third quarter.
"We took it to them and tried to wear them down, but we broke down first," Hernandez said of the remaining quarter of the game.
He said he is proud of the players in spite of the loss because "...the team worked very hard this season."
Hernandez said, "There was a fire this season that wasn't there before."
On defense, he said Josh Anderson and Collin Householder have both really developed as nose tackle and linebacker, respectively.
Hernandez said he is looking forward to seeing how the team competes next season because this was the best record the Knights have had in the four years they have had a football team.
"We could have had two more wins because we lost by just a couple touchdowns," Hernandez noted.
Sunnyside Christian ended its season with a 2-5 league mark, 3-7 overall.