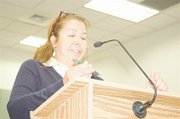 Patrisha Combs, new member of the board of parks and recreation, presented a brief overview of a plan to get indoor soccer going in Sunnyside starting Sunday, Nov. 11.
A number of volunteers, led by Combs, have asked permission from the interim city manager to form a committee that would function as the parks and recreation manager, saving the city the cost of hiring a manager.
The immediate goal of the group is to unite the soccer leagues in the area in helping run a youth soccer program from November until March. The program would provide instruction and games for youth ages five to 14 years old.
The ultimate goal of the plan is to form a non-profit corporation to help maintain parks and recreation services in the city.
Councilman Jim Restucci asked if the committee was legal under the law. Interim City Manager Frank Sweet said he had checked with the city's insurance carrier and would check with attorneys, but he believed the situation was legal.
Sweet also said any expenditures would go through city council to be approved, but the committee did not plan on having any expenses to start out.
"This is just the beginning," said Combs. "There is a sense of urgency to get something in place so our children have something to do."
Combs said registration for the soccer program will be starting on Monday, Nov. 5, from 5 to 7 p.m. at the library. A second registration session is planned on Wednesday, Nov. 7, at the community center with a public introduction at 5 p.m. and registration going until 7 p.m.