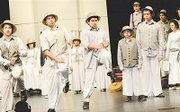 GRANDVIEW - This past August the two Grandview police officers who patrol the streets on bicycles were able to say good-bye to their clunky old wheels.
That's because Officer Kevin Glasenapp was able to secure a $2,000 grant from the Walmart Foundation that helped the police department acquire two new light-weight aluminum bicycles.
"Our old bikes were 15 to 20 years old...we were continuously having issues with the chains falling off of them," said Glasenapp.
He said he approached Grandview Police Chief Dave Charvet, expressing the concerns he and Officer Seth Bailey had regarding the old bicycles.
When the chain falls off during the pursuit of an individual, it can hinder the subsequent traffic stop or investigation of an individual.
Glasenapp said the police department didn't have any room in its budget for the bicycles, but he knew the SWAT team had secured funding for equipment via a Walmart grant.
Charvet signed off on the idea of seeking funding from the foundation.
"The application process is quite easy...they have the application available online," said Glasenapp.
He was happy when the funding was approved because it meant getting rid of the old steel-framed bicycles.
The new bicycles were purchased at Scott's Cycles in the Tri-Cities. They feature an aluminum frame, disc brakes and front shocks, making the ride much more comfortable and the bicycles easier to handle along some of the routes often preferred by those who are up to suspicious activities.
Glasenapp said the bikes are used to patrol alleyways and high foot-traffic areas, not easily accessed by motor vehicles during the spring, summer and early fall.
"The primary goal is to deter graffiti," said the officer.
He said he has, however, collared a couple of individuals driving under the influence and he has assisted with securing the scene of a drive-by shooting while on bicycle patrol.
Glasenapp said the bicycles are a great deterrent. "It feels good to know the gang members are at least thinking of you," he said, stating he has been on patrol and noticed individuals who are known to the police as gang members looking over their shoulders.
The Grandview Police Department was also able to equip the new bicycles with bright headlights and emergency lights with the funding provided by Walmart.
"I just want Walmart to have the recognition it deserves for helping us out," said Glasenapp.