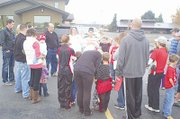 More than 30 people divided among eight teams didn't let gray skies bother them last Saturday as they rallied for what they called an "amazing race" here in Sunnyside.
It was a good, family fun event for a good cause - raising awareness of Menkes disease, a fatal illness that affects about 1-in-250,000 births.
One of those impacted by the disease is the Copeland family of Sunnyside. Natalie and Kent Copeland's son, Cannon, is two-and-a-half years old and has the illness.
According to the non-profit Menkes Foundation, the rare illness is one in which the intestines are unable to absorb copper, depriving the brain and other tissues, such as muscles, of that essential mineral.
November is Menkes awareness month, and to that end the Copelands along with family and friends met Saturday afternoon at Community Dental in Sunnyside for the race to bring attention to the disease.
Altogether, the group made 34 stops in and around Sunnyside to pick up clues for the next portion of the contest. Though parents and kids were competitive in trying to get to each stop first, they were all in for Cannon and his rare disease.
Reagran Lara-Rood is a family friend of the Copelands and helped organize Saturday's race. She said the hope was that getting out and about in the community would generate questions and create curiosity about the disease.
Though there is no known cure for Menkes, the foundation's website on-line at www.themenkesfoundation.org notes positive results can occur the earlier a child is diagnosed with the disease and treated for copper replacement.
Thanking the 30 or so folks assembled on behalf of her son, Natalie Copeland in an at-times emotional appeal called on the group to be thankful, as well.
"Let's be thankful for our bodies and the ability to run and move, because Cannon isn't able," she said.