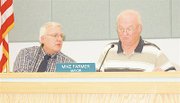 The Sunnyside City Council managed to get through half of the agenda at last night's budget workshop meeting before deciding to schedule another meeting for the remainder due to time constraints.
The proposed 2013 budget is still under heavy revision as city staff sorts out line items that may be redundant or were used incorrectly in previous budgets. Among other goals, Interim City Manager Frank Sweet said he would like to get rid of the catch-all category of "miscellaneous" to encourage accurate reporting.
The council worked its way through the code enforcement, community development and airport categories fairly quickly with only a few questions, but got bogged down in the parks and recreation budget.
The recreation fund includes sub-sections for the senior center, community center, museum, pool and parks.
One question with an uncertain answer was the future of the community center. Sweet said the new all-volunteer committee being formed by Patricia Combs of the board of parks and recreation would be running the community center when the city takes over operations on Jan. 1, 2013.
"At this point in time, until we come up with something different, the staffing is going to be at no charge," said Sweet. "Now, after we sit down with the new group, if it looks like it's going to change, we will come back and adjust the budget. At this point in time, they tell us they've got enough staff to have volunteers run the community center for us."
Also of concern for the council was the museum, which needs some improvements. Deputy Mayor Don Vlieger asked if the city could use lodging tax funds to help improve the building. Sweet said he would look into the possibility.
Also under discussion was changing the way the pool is disinfected. The change would pay for itself in three or four years, according to Public Work Superintendent Shane Fisher. The idea met with approval from Vlieger and Councilman Jason Raines.
"A capital expenditure to save recurring costs is almost always a good deal," said Vlieger.
The final item on the agenda that the council managed to get through was the street fund, which also included a lot of sub-items.
The proposed budget, which is under constant revision and will be updated on a regular basis, is available on the city website under Departments ] Finance ] City Finances ] Budgets and Monthly Status Reports. On that page is a link to "2013 Proposed Budget" which will open a PDF of the current version of the proposed 2013 budget.