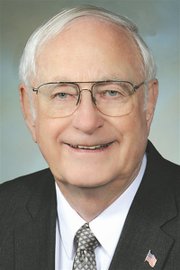 After months of work and meetings with local hospital and state health care officials, Sen. Jim Honeyford yesterday said he was pleased to learn that an agreement has finally been reached to allow the state Community Health Plan to expand services to citizens in Klickitat and Skamania counties at the existing rate.
The agreement will directly impact approximately 300 residents of the two counties, located in the 15th Legislative District, who were on the Basic Health Plan.
The Health Care Authority contracted out services for those residents to United Health Care and Coordinated Care. These two providers, however, do not have an adequate network of providers in the area and are referring people to Randle, Toppenish and Wapato - areas that are often inaccessible to Klickitat and Skamania county residents during harsh winter weather conditions.
"This situation had gone on long enough," remarked Honeyford (R-Sunnyside), who represents all 15th Legislative District residents.
"Some constituents have been paying their premiums for five months or longer without being able to access treatment of any kind; this is unacceptable and I'm glad I've been able to work with all parties to finally reach a solution."
Honeyford explained that Community Health Plan of Washington was previously unwilling to expand into Klickitat and Skamania counties as long as there were other providers offering services, even if access to those services were completely inadequate for local residents.
On Aug. 16, Representative Norm Johnson (R-Yakima) and Honeyford met with Preston Cody and Nathan Johnson of the Health Care Authority, and representatives of Skyline Community Hospital, Northshore Medical Group of White Salmon and Klickitat Valley Community Hospital to discuss potential solutions.
Honeyford sent a letter to Gov. Chris Gregoire last month, requesting assistance with providing a way for his constituents to access vital health care services.
An agreement was finally reached this past weekend. The Health Care Authority will be notifying all Basic Health Plan members in both counties to inform them of this new option and how to request a change.
The agency will begin updating its system for the new plan immediately and expects to complete its work within a week or two.