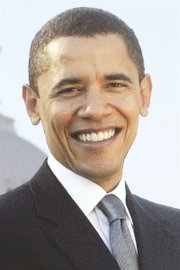 Though by a smaller margin than in 2008, President Barack Obama won his re-election bid last night, Tuesday, to serve another four years in the White House.
Many pundits considered the race too close to call heading into yesterday's election, but by 9 p.m. it was over as challenger Mitt Romney conceded the race.
Obama, a Democrat, won with 303 electoral votes to 206 for Romney, the Republican's choice. A total of 270 electoral votes are needed for election. The only hold-out as of press time was Florida, where the count was still too close to announce a winner.
The president also rallied from an early deficit in the total vote count and as of this morning stands at 59.9 million votes to 57.3 million for Romney, an advantage of 50 to 48 percent.
While Washington state in general was solidly in Obama's corner - 1.06 million to 822,611, or 55 to 43 percent - Yakima County bucked that trend.
The vote here went in favor of Romney to the tune of 26,776 to 19,216, or 57 to 41 percent.
As was the case in many parts of the country last night, Romney did better than John McCain four years ago - Obama grabbed 43 percent of Yakima County's vote in 2008 - but didn't show enough improvement to unseat the incumbent.
In his official comments last night, Obama called on the nation to come together.
"I believe we can seize this future together because we are not as divided as our politics suggests," the president said. "We're not as cynical as the pundits believe. We are greater than the sum of our individual ambitions, and we remain more than a collection of red states and blue states. We are and forever will be the United States of America."
Obama added, "And together with your help and God's grace we will continue our journey forward and remind the world just why it is that we live in the greatest nation on Earth."
Romney, too, struck a conciliatory tone in his comments last night.
"I have just called President Obama to congratulate him on his victory. His supporters and his campaign also deserve congratulations. I wish all of them well, but particularly the president, the first lady and their daughters," Romney said. "This is a time of great challenges for America, and I pray that the president will be successful in guiding our nation."
In his comments to supporters, Romney added, "I so wish - I so wish that I had been able to fulfill your hopes to lead the country in a different direction, but the nation chose another leader. And so Ann and I join with you to earnestly pray for him and for this great nation."