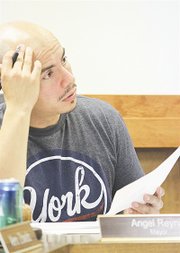 MABTON - City council members in Mabton last night began chipping away items on the 2013 budget to help narrow the $145,000 deficit.
As the budget sits now, revenues for the city of Mabton will total about $1.9 million in 2013. Expenditures for the next calendar year are currently slated at $2.06 million.
Mabton council members began looking at the detailed numbers this past Tuesday night, at a special budget workshop, to find ways to even out the numbers.
Though the differences between revenue and expenditures seem great, Mayor Angel Reyna says the annual budget is seemingly stabilizing.
"The budget is getting more predictable," he added.
For the past few months, departments have been submitting "wish list" items to the city for consideration.
Mabton City Clerk and Treasurer Ret Stewart told council members it is time to start "chipping away" at the budget, and begin prioritizing the 2013 budget.
Next week, Tuesday, Nov. 13, the council plans to move forward with a second public hearing on the 2013 budget and is still eyeing Tuesday, Nov. 27, as the 2013 budget adoption date.