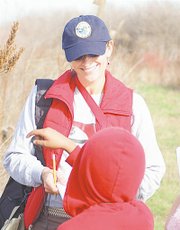 Owls and hawks and squirrels and even skunks were some of the animals Sunnyside fourth graders spotted during a wildlife field study earlier this week.
The Chief Kamiakin Elementary School students trekked to a wildlife preserve near Sunnyside to catalog the animals they found there.
There was a bit of nature sleuthing involved, too, as the fourth graders investigated nesting boxes in the area to determine what birds had made a home there.
At one of the nesting sites, children huddled around biologist Chuck Gibilisco, sifting through feathers and debris to determine a tree swallow had nested there.
Amy Peters is a fourth grade teacher at Chief Kamiakin, and she says the student research is grant funded and focuses on teaching students how to collect data and apply what they learn in the classroom.
"It's cool," fourth grader Sammy Clampitt remarked as she snapped photos of an abandoned nest.
Besides an opportunity to get up close with nature, there were plenty of lessons to be learned and applied in the wild.
Another fourth grader, Jose Hernandez, remarked that many nests were empty because some birds leave the area during the winter months.
During their outdoor adventure, students stumbled on some items left by humans, such as spent shotgun shell cartridges.
Erika Barrom teaches fourth graders at Chief Kamiakin and said those kind of unexpected items offer teachable moments.
"We can talk about how people have different hobbies," Barrom said, noting the wildlife preserve is open to hunters. "It's not just about animals, but about human impact and how important it is that the public be allowed to use the area while also preserving it."