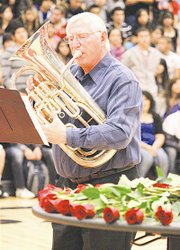 Students, faculty and community members could have heard a pin drop in a packed Sunnyside High School gymnasium yesterday morning.
This annual assembly wasn't to show rally for a sporting event or to muster up Grizzly pride. It was held to honor and pay tribute to those who have fought for the freedoms enjoyed by Americans today.
Nearly 30 local military veterans showed at the Sunnyside High School cafeteria this past Wednesday morning for a complimentary breakfast, followed by a ceremony in the gym to honor them. The morning began with a flag salute and inspiring words read by students, staff and veterans.
As SHS teacher and U.S. military veteran Tom Bushlen played a service song medley, veterans and their family members were asked to stand and be recognized during the performance.
Attendees at the third annual veterans assembly listened as Sunnyside resident and three-year army infantry officer and Vietnam veteran Leroy Werkhoven challenged them to serve.
"I'm not saying you need to serve in the military, though I do encourage it, I'm asking you to watch for the opportunities to serve in your community," Werkhoven said. "We are all called to serve."
He charged students with looking at the bigger picture and lending a helping hand to those in need.
"Do something that is greater than yourself," he said.
The event ended as each veteran who showed was individually called to the center of the gymnasium, handed a rose and personally thanked.
SHS band students played Taps in honor of those who have fought for the United State who were present and those who could not be present.