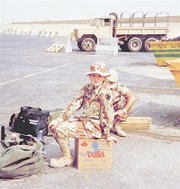 GRANDVIEW - On Saturday, Dec. 15, wreaths will be set on the gravesites of veterans in cemeteries across the nation.
The Wreaths Across America ceremony will be observed at the Grandview Cemetery starting at 9 a.m. The event became a national effort in 2007 and in 2011 volunteers laid more than 320,000 memorial wreaths at 741 locations in the United States and beyond.
To help promote the event, Bleyhl Farm Service, Inc. is working with local coordinators. The company has set up a display at the Grandview Country Store to honor the veterans employed by the company and to provide more information about the ceremony and how people can participate.
The main way to participate is to sponsor a wreath for $15. The deadline to sponsor a wreath is Thursday, Nov. 15. Proceeds fund veteran outreach and education and the Gold Star Mothers of Washington.
"We need more people to sponsor wreaths," said Linda Freepons of Bleyhl. "The Grandview Cemetery has more than 400 veteran graves."
People can also attend the ceremony and help to place the wreaths on graves. Families are encouraged to bring children to the ceremony to teach the importance of honoring those who have served their country.
In honor of veterans, Bleyhl Country Store will have free cookies on Monday, Nov. 12, and give 12 percent off any purchased items to any active or retired military members.
To sponsor a wreath, people can visit www.weathsacrossamerica.org or contact local coordinators Ginger Emerson (882-3801) or Bev and Jerry Schliep (882-3191).
Laura Gjovaag/Daily Sun News
A display at the Grandview Bleyhl Country Store honors the veterans that work there and has more information on Wreaths Across America and how to participate.