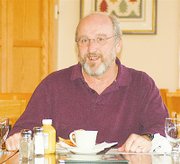 Changing light bulbs can also help a business change its bottom line.
That's according to William Gatchel of Pacific Power, who addressed the Sunnyside Chamber of Commerce during a luncheon yesterday, Thursday.
Gatchel works for Evergreen Consulting Group based in Portland, Ore., and yesterday represented Pacific Power and its new outreach program to industry and businesses in the Sunnyside area.
The plan, he said, is to check with local businesses and industries to see what benefit there might be to lighting upgrades.
Gatchel notes that businesses will need to look at upgrades in the future, because some existing light bulbs and fixtures are no longer being produced, making way for more energy-efficient products.
The upshot, he says, is that when the existing supply of old light bulbs are gone from store shelves they'll be gone for good.
Besides gearing up for the future, Gatchel says changing to energy-efficiency lighting will pay off in the form of savings.
"The latest in energy efficient technology can do a lot to control costs," he told chamber members at the luncheon.
If a business or industry is interested in a lighting upgrade, Gatchel says the next step will be for them to reach out to a contractor. He said he has pledges from several contractors to get back to interested businesses within 48 hours to provide an estimate.
Gatchel says the estimate can then be used to help the business or industry owner obtain incentives to make the lighting changes.
For those interested in learning more about the lighting upgrades and associated incentives, Gatchel says Pacific Power will offer a free breakfast to Sunnyside-area businesses and industries next Tuesday, Nov. 13, from 7:15 to 9:30 a.m. at Bon Vino's Bistro and Bakery in Sunnyside.
He says those who can't make the breakfast, but want to learn more about lighting changes can call him at 541-377-7943.