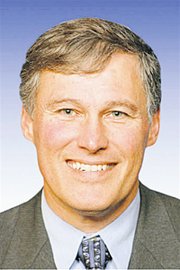 The results were close, but not close enough as last Friday Republican Rob McKenna officially conceded the governor's race to Democrat Jay Inslee.
"Despite the extraordinary efforts of our volunteers, donors, staff and everyone who's been a part of team McKenna it appears we will fall short of victory when the last ballots are counted," McKenna posted on his Facebook page. "After 17 months of hard work that is a very disappointing result."
McKenna, a two-term Washington State Attorney General, received 1.34 million votes (48.8 percent) in the final statewide ballot count last night, Sunday.
Inslee, a former U.S. Congressman, came out on top with 1.41 million votes, good for 51.2 percent of the popular vote.
In the latest local vote count last Friday, McKenna held on to a wide majority here in Yakima County, claiming a 37,025 to 25,061 victory (59.38 to 40.19 percent).
Following McKenna's concession Friday night, Washington State Democratic Party Chair Dwight Pelz weighed in on the state's future direction.
"There is much work to do, but Jay Inslee is the right leader for Washington. Rob McKenna ran a great campaign, and proved to be a very strong candidate in yet another tough contest," Pelz said. "But we've always thought Jay had the best vision for our state, and the voters agreed."