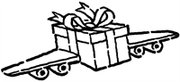 School supplies, clothes, shoes and socks may be all a young child could hope to receive this Christmas season.
All of these are simple things that many American children have access to. But in impoverished areas across the world, school supplies and basic clothing could make a huge difference.
While most people in the U.S. are preparing for holiday activities, Sunnyside volunteers with Operation Christmas Child-the world's largest Christmas project of its kind-are filling shoe boxes with toys, school supplies and hygiene items for needy children overseas.
This year-round project of international Christian relief, taken on by the evangelism organization Samaritan's Purse and headed by Franklin Graham, is ramping up as local businesses, churches and community groups prepare to collect more than 700 gift-filled shoe boxes during the group's national collection week, Nov. 12 to 19.
Anyone can drop off a packed shoe box at the Sunnyside collection site at the Sunnyside Neighborhood Church, located at 385 E. Allen Rd.
Then, using whatever means necessary-trucks, trains, boats, bikes and even elephants-the shoe box gifts will be hand-delivered to hurting children in 100 countries around the world.
The Sunnyside Neighborhood Church will be open Monday, Nov. 12, through Monday, Nov. 19, accepting the gifts.
Additional local collection sites can be found using the online zip code locator at www.samaritanspurse.org.
In 2012, Operation Christmas Child expects to reach a milestone-collecting and delivering shoe boxes to more than 100 million children since 1993. During that time, Operation Christmas Child has collected more than 94 million shoe box gifts and hand-delivered them to suffering children in more than 130 countries. This year the organization hopes to collect another 9 million gift-filled shoe boxes. Through the power of a simple gift and the message of hope through Jesus Christ, children learn they are loved and not forgotten. For many children, the shoe box gift will be the first gift they have ever received.
Operation Christmas Child uses tracking technology to allow participants to "follow" their box to the destination country where it will be given to a child in need. To register shoe box gifts and find out the destination country, use the "Follow Your Box" donation form found at www.samaritanspurse.org/occ.
For more information on how to participate in Operation Christmas Child, call (253) 572-1155 or visit www.samaritanspurse.org/occ.