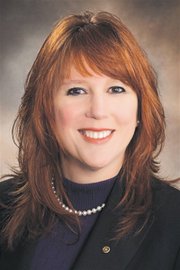 Thurston County Auditor Kim Wyman (R) has been elected to serve as Washington State Secretary of State after what was arguably the most tightly contested election race of 2012.
She won the race by just more than 35,000 votes, or a 1.34 percent margin.
Democrat candidate Kathleen Drew conceded the race this past Saturday, having secured a little more than 49 percent of the vote.
Wyman was elected to serve four terms as the Thurston County auditor, the last of those elections being held in 2010.
She will succeed Sam Reed, who did not seek re-election this year, as secretary of state and hit the campaign trail earlier this year, making Sunnyside her first stop in Yakima County.
Of the secretary of state position Wyman told the Daily Sun News, "The most important thing I learned from Sam Reed is the importance of the non-partisan part of the job."
She worked with Reed for more than a decade, which she believes gave her a strong foundation for performing her duties as auditor. Wyman believes that also prepares her for the duties of serving as secretary of state.
Wyman said it is important to maintain a balanced approach to security, integrity and access in elections, matters of finance, public records and licensing.
She told the Daily Sun News she has three priorities for serving as Washington's secretary of state, including maintaining the confidence Washington residents have in the accuracy and accessibility of statewide elections, aiding in improvements to the state's economy and protecting access to open public records.
Wyman also has a goal of maintaining an account Reed established with funds from fees paid by those accessing state records for the purpose of establishing a Heritage Center. The center is planned for the purpose of housing Washington's historical documents.
She wants to see the dreams of building the center come true.