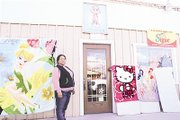 After many years of hard labor, Maria Ramos' children wanted her to make a career change.
"My daughters didn't want me to work the fields anymore," she said.
The Sunnyside resident decided to combine her passions and open her own shop. Since 2005 the Ramos Gift Shop has been situated at 1015 E. Lincoln Ave., offering a variety of gifts, party supplies and much more.
Ramos says there are plenty of religious items available, as a tribute to one of the most important facets of her life.
"I like a lot of religious items, so I sell them here," she added.
Another popular item she sells is blankets. From children-themed fleece covers to trendy bed spreads, Ramos has it all.
She says after living in Sunnyside for nearly 40 years she's found her niche at her very own shop.
"I'm happy with the things I sell," Ramos said.
In addition, Ramos says she's good friends with popular cartoon character Dora the Explorer.
"We have a Dora costume and rent it out for birthday parties," she added. Sometimes Dora's sidekick, Boots, makes an appearance too, says Ramos.