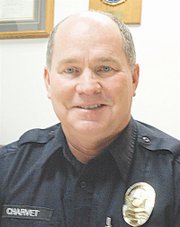 GRANDVIEW - Chief David R. Charvet of the Grandview police was presented with the American Legion Law Enforcement Officer of the Year Award by the membership of Fred E. Hayes Post 57 during ceremonies at the post's Veterans Day dinner held this past Saturday.
The commendation was made in recognition of his many years of distinguished service to the city of Grandview.
Charvet was born and raised in Grandview and attended Yakima Valley Community College, where he received an AA degree in law and justice.
He was hired by the Grandview Police Department in 1972. He became the interim police chief in 1983 and permanent police chief in 1984.
Charvet also served as Grandview Chamber of Commerce president two years in a row in the late 1980's. He is a past president and current member of the Grandview Rotary Club. He served as chairman for several years of the Lower Valley Hospice Auction. He was the Grandview Chamber of Commerce's Person of the Year in the early 1990's. He is also a Yakima County Fire District 5 commissioner.
Charvet currently volunteers and spends much of his time working for Volunteer Chore Services building wheelchair ramps and handrails for the handicapped and needy. He also volunteers at his local church and is chairman of the church leadership board.
"It was very nice," Charvet said of receiving the award. "I was flattered."