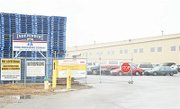 Talks are underway for Independent Foods in Sunnyside to be sold to Seneca Foods Corporation.
That's according to a memorandum of understanding disclosed this past Thursday by Seneca, which is headquartered in Marion, New York.
Independent is part of Mt. Adams Orchards, which also has operations in Bingen, Dallesport, as well as orchards in Alderdale, White Salmon and Hood River, Ore.
According to the statement released last week, though, Seneca's focus is on Independent Foods in Sunnyside, which cans pears, apples and cherries.
The 40-year-old Sunnyside company has 380 employees, 120 of them full-time.
Things shouldn't change for employees at the local plant for the foreseeable future, says Don Gibson, CEO of Independent Foods.
"Operations will continue to function in a normal fashion for the immediate future," he added. "They're buying the plant to operate it, not shut it down."
Gibson says negotiations on the sale will take 60 to 90 days.
"At this point we're just under this memorandum of understanding," Gibson said by phone from Independent's administrative office in Yakima. "We'll be working towards completion of the sale."
Green Giant, Libby's and Stokely's are just some of the name brands associated with Seneca products.
The effort to purchase Independent Foods follows a period of earnings for the company, as Seneca Foods recently reported a net increase in quarterly sales of 12.3 percent, or $34.9 million, compared to the same quarter the year before.
The memorandum of understanding isn't an ironclad guarantee that the sale of Independent Foods will go through.
According to its records, Seneca signed a memorandum in July 2011 to merge with Arkansas-based food processor Allens, Inc. Two months later, Seneca issued a follow-up notice announcing the termination of merger negotiations.