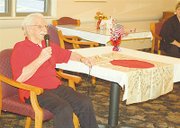 Jack Moran's dream of playing professional baseball took a backseat to an all-encompassing world war.
Yesterday, Monday, the would-be all-star shared how he ended up with a Bronze Star and more.
Moran lives at Sun Terrace Assisted Living & Retirement Community here in Sunnyside and in honor of Veterans Day was asked to recount his experiences in World War II that included the capture of a Japanese flag.
Moran, who also celebrated his 93rd birthday yesterday, described how his plan to play professional baseball in Salem, Ore. was put on permanent hold following the surprise attack on Pearl Harbor.
After training at Fort Lewis, he described war-time service in the Pacific where he island-hopped from Australia to New Guinea to the Philippines.
It was at that last stop where he had his encounter with a Japanese soldier that could have had tragic consequences for him.
Moran says it all started one morning when three shots rang out at him and a buddy. They determined the gunfire came from a Japanese soldier, and followed him to a forested area.
Moran then crawled through dense brush until he happened upon the enemy's foxhole.
It was do-or-die.
"I expected to be shot at any time," Moran said.
Eventually the enemy soldier popped out of the foxhole to fire. "I snapped a shot and wounded him," Moran said.
He said a fellow U.S. soldier happened along and fired the round that ultimately killed the wounded man.
Later, Moran received a Bronze Star for his actions. He also received a Japanese flag that had belonged to the soldier he wounded at the foxhole.
Moran explained that his colleague who fired off the fatal shot took the Japanese flag from the dead soldier.
It was later that the flag was presented to him for his heroism in tracking down and initially taking out the foxhole.
Today that flag is on display at Sun Terrace, a reminder of Moran's heroism that all began with a diamond dream deferred.