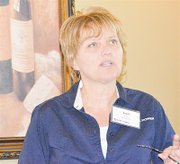 Being energy efficient can help businesses in many ways, according to Pacific Power and Evergreen Consulting Group representatives who spoke to Sunnyside business leaders yesterday morning (Tuesday).
Consultants were on-hand to speak to business leaders at a breakfast hosted by Pacific Power and the Sunnyside Chamber of Commerce.
Attendees received an explanation regarding new federal regulations for fluorescent lights, as well as reasons Pacific Power and Evergreen Consulting Group believe it is beneficial to change light fixtures.
Clark Satre is the current spokesman for Pacific Power. He said because customers of the utility company have become more diligent about saving energy, there is one less coal plant in Washington now than 40 years ago.
"We're here to save you energy," he said, adding productivity levels are also improved as a result of new lighting solutions.
Lori Sanders, a consultant with Evergreen Consulting Group, is just one of a handful of contractors visiting area businesses this week.
She said new technologies are helping businesses and residents save energy and money.
Sanders said T12 fluorescent lighting is a topic of concern for many because manufacturers have ceased making the tubes that were used for lighting businesses for many years.
The federal government, said John Wilmoth of Evergreen Consulting Group, mandated that T12 production cease and those bulbs that can be found are all that are left in the U.S. market.
T8 bulbs, which are smaller and use less energy, are meant to replace the older, outdated T12 lighting. However, the newer, more energy efficient bulbs require new lighting fixtures.
"With businesses we want to talk about the return on an investment which is 20 percent or better when you change your lighting," said Sanders.
She said the smaller T8 lighting generates less heat, which saves on cooling costs and improves the business environment because it brightens the atmosphere.
"There have been studies proving better lighting improves productivity," said Sanders, stating employees are happier in a well-lit environment.
Maintenance issues are also improved with the newer lighting options available. She said the newer lighting options require changing bulbs less often.
Sanders also noted that Pacific Power offers incentive programs for those making the switch from the less energy efficient lighting fixtures to newer, more efficient fixtures.
To give those present an idea of the cost savings, Sanders told those attending the breakfast 20 retrofitted fixtures can save nearly $400 annually.
The incentive programs, she said, cover between 20 and 50 percent of the initial costs associated with retrofitting the fixtures.
For what is referred to as high bay lighting fixtures, the benefit of updating fixtures enhances the environment, provides for added safety and the lighting has instant start and re-strike times, meaning there isn't a warm-up period before the lights are functioning at full capacity. There are also control strategies like occupancy sensors that can be installed so that lights will turn on and off as individuals enter or leave an area of a building.
Incentives for high bay projects can range between $80 and $195 per fixture.
The consultants also spoke about LED lighting, which is increasing in popularity and decreasing in price.
Sanders said some lighting solutions are sensitive to cold, but LED lights are not.
Wilmoth said, "LED is the wave of the future."
He said LEDs are becoming more popular because of their life span and energy efficiency.
She said Pacific Power has asked the contractors with Evergreen Consulting Group to meet with merchants in the Yakima Valley to help customers learn how they can save energy and costs by changing their lighting fixtures.
Sanders said the contractors can help customers learn about the initial cost and the anticipated return on the investment. They will be in the Lower Yakima Valley for the purpose of evaluating the lighting and solutions for businesses throughout the remainder of the week.
The contractors can be contacted by calling Sanders at 509-727-0394, Mike Porter at 503-730-3122 or William Gatchel at 541-377-7943.
Sanders said there are four local electrical companies willing to respond within 48 hours, including Hutchinson Electric, Kinter Electric, Orange Dairy Services and Tolman Electric.