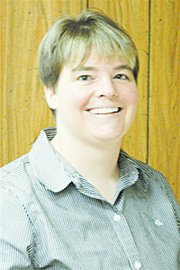 Sunnyside's new finance director is no stranger to the problems the city faces in its budget. Teresa Hanford was a member of the state audit team that discovered many of the problems in the first place.
Hanford decided to leave the state auditor's office and relocate to Sunnyside because she felt she spent too much of her time on the sidelines.
"I don't want to just tell people they are doing stuff wrong," she said. "I want to be part of the solutions."
Hanford was raised in Washington state, attending Soap Lake High School near Moses Lake. Her family, including her parents, two brothers and three sisters, still lives in Eastern Washington. Hanford herself is single with no children.
She tried out a lot of jobs before settling into accounting and getting a degree. She spent three years as a school bus driver in Moses Lake and Harrington. She's also worked as a youth pastor.
Hanford has been working for the state auditor's office in the Tri-Cities for the past four and a half years. From that experience, she learned that she wants to fix problems, even problems as difficult and tangled as the city of Sunnyside's budget.
"I like challenges," she said. She believes her auditor's training and accounting experience will help the city sort out its finances.
In her down time, Hanford enjoys travel, volleyball and being with friends. She also enjoys participating in church healing rooms. She's currently still living in the Tri-Cities, but plans to move closer to her job at some point.
"I'm excited to be here," said Hanford. "Because of the (state) audit I have a good handle on what needs work. I'm excited for a new challenge."