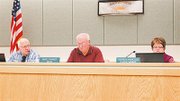 The Sunnyside City Council voted 4-2 last night to allow restricted consumption of alcoholic beverages at the community center and Centennial Square.
The ordinance allows up to 10 events per year that may serve alcohol, and only two events per applicant in a year. The serving of alcohol during those events is limited to certain times and locations.
The ordinance also requires mandatory alcohol server training and a deposit or other legal instrument to ensure the city does not bear any expense for damages at the event.
The council suspended the rules last night to allow public comment on the ordinance. Rev. Regner Capener asked about the type of alcohol that would be allowed. Interim City Manager Frank Sweet said the city won't distinguish between types of alcohol and that the training of the servers is more critical.
Councilwoman Theresa Hancock described the training required, explaining she has taught the course in the past. She said it's a three-hour class with a test. The course covers how to tell if a customer has had too much to drink and what to do if a customer is taking other substances, such as cold medicine that may contribute to impairment.
"It's pretty extensive," she said.
Councilman Nick Paulakis expressed his concerns with the ordinance, noting that DUIs were up 188 percent in the crime statistics recently given to the council by Deputy Police Chief Phil Schenck.
Paulakis said he saw five red flags with the ordinance. The special insurance, service in an enclosure, private guards, trained servers and a police presence all would not be necessary if the drinks served were not alcoholic. He also found the need to serve alcohol to bring events to city parks to be a negative commentary on society.
"If this is what draws people in, that's really sad," he said. "If people won't come unless there's alcohol, that's not a good thing."
Deputy Mayor Don Vlieger said that while he agreed with Paulakis' points, the laws are written for the worst case scenarios. He noted the recent chamber of commerce event held at Centennial Square happened with no problems.
"Do you have to have alcohol to have a good time? No," said Vlieger. "Do you have to have alcohol to get some of these bookings? Yup, you do. Because some of these events that happen, not everybody shares our values."
Hancock also noted that the city has lost some events to other communities because of a lack of a place where an adult function with the proper use of alcohol could be held.
"I don't think the intent of this at all is to start having big family functions downtown where it's a free-for all," she said.
Mayor Mike Farmer also expressed personal distaste for allowing alcohol on city property while also agreeing that adult events can serve alcohol without problems.
"I wish I didn't have to vote," said Farmer. "I certainly agree with Nick and I certainly agree with the other councilors."
He expressed worry that opening the door to some alcohol usage might create problems in the future.
Hancock, Vlieger, Councilman Jim Restucci and Councilman Craig Hicks voted to approve the ordinance. Farmer and Paulakis voted against it.