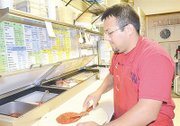 GRANGER - Seeking a means to supplement his income while his wife followed doctor's orders during a high-risk pregnancy, Jose Barcenas found himself working as a part-time manager at Doc's on the Green in Granger.
That was six years ago, when Barcenas also worked full-time as a paraprofessional at Roosevelt Elementary School.
Now, he is a full-time manager for the local family entertainment center.
"After a couple of years I was offered the full-time position," said Barcenas, stating the opportunity to work just one job was helpful to his family.
Although he works six days each week, Barcenas said there is plenty of time for his family and he enjoys his job.
"It's a fun job," he said, stating he has an opportunity to help families enjoy quality time together.
Barcenas said the people with whom he comes in contact, the atmosphere and the interactions with regular customers make his job fun.
"The days go by quickly," he said.
Mondays and Tuesdays, Barcenas said, are slower than the rest of the week. However, he said that provides him the opportunity to catch up on paperwork.
The remainder of the week, he said, keeps him busy. He is responsible for ensuring the pizza dough is made fresh each day and the quality of the recipes is maintained. He also is responsible for scheduling the six to 12 employees that work at the local entertainment center, and ensures the outdoor equipment is properly maintained.
Weekends and summers are his busiest times. During the summer months up to 12 employees work at Doc's on the Green because more people take advantage of the outdoor activities available there.
"We like to make sure everyone has fun," Barcenas said, stating there is an activity for every age at Doc's on the Green.
He said there are between 250 and 300 parties held there each year.
This past February, the owners opened a newly constructed addition to the building to accommodate more people. The 50s diner, said Barcenas, has been very popular.
"Our great pizza recipes combined with the fun atmosphere and activities makes us popular," Barcenas said.
"Some people come just for the pizza and other come for the activities," he noted.
"Thankfully, the owner, Randy Duford, maintains the 9-hole golf course," Barcenas laughed.
He said people often ask him if he imagined himself as the manager of a pizza parlor or entertainment center.
"It wasn't what I imagined, but the Dufords gave me a great opportunity to gain experience and opportunities I didn't think would be available to me," said Barcenas.
He said working as the manager for Doc's on the Green is rewarding and the owners have exhibited a great deal of confidence in him.
"They get to take their first vacation and don't have to worry because they have taught me all that needs to be done here," said Barcenas.