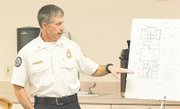 Earlier this year Sunnyside voters approved a $5.3 million project to fund the construction of a new fire station.
The Sunnyside Fire Department's new home should be going up in 2013, according to Fire Chief Aaron Markham, who spoke at this past Wednesday morning's Sunnyside Daybreak Rotary meeting.
Markham says the original plan was to begin construction this fall.
"But with winter fast approaching, it looks like we may get it started at the beginning of the (2013) year," he said.
The Sunnyside 2012 budget is what's holding up the process, says Markham.
"We're working on obtaining the actual funds to be able to proceed," he said.
With construction documents and plans now 98 percent complete, once the documents are 100 percent complete, Markham says the project will be going out to bid.
The bid process will consist of two bids, one for the demolition of the old medical office building next door, and one for the construction of the new building.
After construction begins, Markham says the project should take just about a year to complete, and he's hopeful by the start of 2014, Sunnyside firemen will rest easy in their new home.