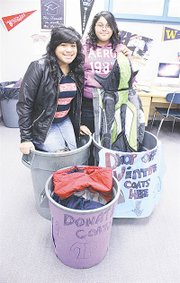 Sunnyside middle schoolers are asking community members to help keep their peers warm this winter.
Sunnyside's Harrison and Sierra Vista middle school students have collaborated in a community service project this year in cooperation with Central Washington University.
Sierra Vista teacher Britney Voight, a CWU grad, says with her contacts at the university many youngsters should be able to have a coat this winter.
For the month of November, local middle school students are collecting coats that will be directly distributed by them.
On Dec. 1, Central Washington University students will come to Sunnyside to help the middle schoolers distribute these coats from 9 to 11 a.m. at the Sierra Vista Middle School gym.
Harrison Middle School students will be there too and they are contributing with collection bins placed around their campus that they are hoping to fill.
Voight says all winter apparel items are sought, including gloves, scarves, coats and sweaters.
"Middle schoolers love hoodies," she added.
This isn't the first time the two schools have collaborated. At the start of the school year the students also collaborated to collect aluminum cans for recycling. With 120 pounds collected, the Sunnyside students were able to donate the funds received from the sale of the cans to the Ronald McDonald House.
"The students were so awesome, going around the community picking up cans, it also helped clean up the streets a bit," Harrison Middle School adviser Andrea Phillips said.
During the month of December, the middle school cooperative is also planning to host a canned food drive, to directly assist Sunnyside food banks during the holiday season.
The coat drive distribution, according to Voight, is open to anyone who is in need of winter apparel. For more information, contact Voight at (509) 836-8500.