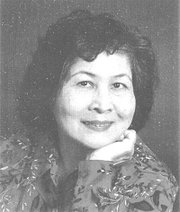 Born in Indonesia at a difficult time, Betsy Tan of Sunnyside experienced a part of history that is unfamiliar to much of her American audience.
During her life she saw populations driven from their home and governments fall. And from an early age she also had a deep curiosity about a religion she knew almost nothing about.
"If I Ride the Morning Winds: a testimony of God's Redemptive Love" is Tan's autobiography, telling how she first heard about the crucifixion of Jesus as a girl and how that story, told by a substitute teacher, affected her later choices both for good and ill.
Tan has a straightforward way of writing that engages your attention immediately. Readers will be drawn into the story by a traumatic childhood memory and will only find relief from the intensity of Tan's life by her short reflections at the end of each chapter.
There is no preaching in the story. Tan tells what happened, as cleanly and honestly as she can, then reflects on the situation. She often mentions the impact God had on her life, and how her quest to understand the story of Jesus in a country where talking about it could get people killed meant she had to face difficult choices and difficult times.
The only problem with the book is a common one among autobiographies: a tendency to tell the story out of order, because that is how it is remembered. In a couple of places the jumps in time are slightly confusing, but not enough to detract from the story.
This is a must-read book for Christians of any denomination, but people who aren't religious will also find much to enjoy in this book.
To order a copy of "If I Ride the Morning Winds," email the author at bee88tan@yahoo.com.