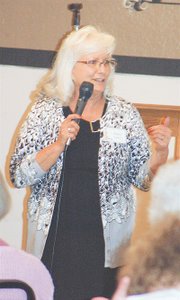 PROSSER - "I'll be happy when..." is a statement many make throughout their lives as they eagerly await milestones such as graduation or marriage.
But for that statement to become reality takes something more than mere accomplishment or checking off a milestone
That's according to Hayley Lester, the speaker at this past Tuesday's Lower Valley Christian Women's Connection luncheon in Prosser.
Lester, a Prineville, Ore. resident, described on Tuesday how abuse when she was younger caused her to hold unforgiveness in her heart.
That unforgiveness was directed both at those who abused her, as well as at herself for past mistakes.
She says a light went on when she attended a women's Bible study several years ago.
Lester described how the revelation in that study that God not only wanted to forgive but forget her sins was a life changer.
"I didn't think God could love me because I had made mistakes when I was younger," she said. "I thought God could never forget what I had done."
She recalled how that group study led her to open the Bible on her own. "With a beer in one hand and a cigarette in the other I started reading the Bible," Lester said.
In the process she not only gave up alcohol and tobacco, but also the hindrances that prevented her from being truly happy.
That includes unforgiveness.
"It's a process, it doesn't happen overnight," she told the luncheon group. "If someone hurts me I try to forgive as quickly as I can."
Lester says making that choice to forgive right away prevents her from holding the wrong in her heart and developing grudges and bitterness.
Other barriers to happiness she encouraged the women to overcome included trying to control others and building up false expectations of others.
The bottom line, Lester says, is that true happiness doesn't come from reaching a milestone or from other people.
It comes from a higher source.
"We all have a God-shaped place in our heart," she says. "Only God can fill that place up."