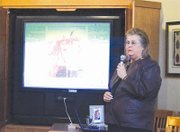 Nouvella Club President Karen Jaquish recently conducted research on a few notable women who were married to U.S. presidents.
At yesterday's monthly Nouvella Club meeting in Sunnyside she detailed the lives of three U.S. first ladies, noting she found the lives of the women who have contributed to life in the White House to be "extraordinary."
"Each of the women has unique characteristics and personalities," said Jaquish.
The first of the women highlighted for those attending the Nouvella Club meeting was Frances Folsom Cleveland, wife of President Grover Cleveland.
Mrs. Cleveland was born in 1864 and married the president when she was 21. He was already serving as the leader of the United States.
The couple's history dates back to the time of her birth, according to Jaquish. Mr. Cleveland was a close friend and business partner of his future wife's father, Oscar Folsom.
Mr. Cleveland, said Jaquish, purchased the first baby carriage in which baby Frances, whose birth name was Frank, rode.
At the age of 11 Frances' father died in a carriage accident, leaving most of his estate to his business partner.
Mr. Cleveland invested the $5,000 life insurance policy left to the family and was able to help his future wife continue to receive a quality education and live in a manner similar to what her father would have provided.
Jaquish continued detailing the lives of the former president and his wife, stating Cleveland was elected to serve as governor of New York and invited both Mrs. Folsom and daughter Frances to visit the governor's mansion. Frances was 18-years-old and Mr. Cleveland was impressed by the young lady whom he had known when she was a child.
Jaquish said the couple developed a love letter romance and although Cleveland was 47-years-old, Miss Folsom's mother was pleased with the courtship.
Cleveland was elected to serve his first term as president in 1884 and was inaugurated in 1885 while Frances was still at Wells College.
Cleveland invited the mother and daughter to visit him at the White House in the spring of 1885.
"Many believed he was interested in Emma (Mrs. Folsom)," said Jaquish, speaking of the rumors that spread when word of the women's visit reached the public.
She said it was of national interest because Cleveland was a bachelor when he was elected. It was during that visit that he proposed to Frances.
The White House paid for the Folsom women to travel to Europe and upon their return on May 27, 1886 the president announced to his staff that he would marry Frances on June 2 in the White House Blue Room.
"She became a national celebrity overnight," said Jaquish, who noted Frances was the youngest woman to serve as first lady and the only first lady to marry in the White House.
Jaquish said the celebrity status was much like that of Jaqueline Kennedy because trends were set based upon the fashions worn by Mrs. Cleveland.
"Women began copying her hairstyle and wore flowers in their hair like she did," said Jaquish, noting unauthorized photographs of the new first lady were used in advertisements, as well.
In 1888, President Cleveland lost his bid for re-election. Jaquish said he received the popular vote, but not the electoral vote.
"Frances told him, 'We'll be back' when the couple left the White House," said Jaquish.
The couple moved to New York and in 1891 their first child, Baby Ruth, was born. In 1892, as his wife predicted, Cleveland was elected to serve a second term as president and the couple's second child, Esther, was born the following year and their third child, Marion, was born in 1895.
The children became the objects of public curiosity, especially because of Mrs. Cleveland's popularity, according to Jaquish. The White House grounds had to be closed to the public because, it was noted, people were picking up the children and holding them.
The Cleveland family moved to Princeton, New Jersey at the end of the presidential term and had two sons, Richard and Francis, a few years later.
The child who was named "Baby Ruth" by the public died at the age of 12. Jaquish said she died as the result of contracting diphtheria.
Mrs. Cleveland was widowed in 1908 and was the first of America's first ladies to remarry. She met and married Thomas Preston Jr. in 1913.
The former first lady died in 1947 at the age of 83. Jaquish said she was buried with Cleveland and the couple's daughter, Ruth.
Jaquish said her research also helped her develop an appreciation for Caroline Harrison, wife of President Benjamin Harrison.
The couple lived in the White House during the years between Grover's two terms as president.
Mrs. Harrison was born in 1832 and married Mr. Harrison in 1853.
"She was the first to use electricity in the White House and the first to have a Christmas tree in the White House," said Jaquish.
She was also the second wife of a president to die in the White House when she succumbed to tuberculosis in 1892.
During her three years as first lady, Mrs. Harrison was a proponent of women's organizations.
She helped fund John Hopkins Medical School, insisting women be admitted to the school.
Jaquish said Mrs. Harrison had a dogged determination for women's organizations and helped strengthen the Daughters of the American Revolution, which was formed in 1890.
She died in 1892.
It is the wife of President William McKinley who was the center of Jaquish's next presentation.
Ida McKinley, who was born in 1847, served as first lady from 1897 to 1901.
She was the only first lady to have served as a bank teller and was known for her strong financial mind.
Mrs. McKinley's father, James Saxton, owned a bank in which she became a clerk. He often left her in charge upon his absence, according to Jaquish.
As first lady, Mrs. McKinley is noted for having been an outspoken proponent of women's rights and convinced her husband to include the Philippines in the Spanish-American War. She urged the president to name General Leonard Wood to lead American forces in Cuba.
Jaquish said Mrs. McKinley was not healthy and historians believe she suffered from epilepsy, although there was no such diagnosis at the time.
"She complained of severe headaches and suffered from seizures," according to Jaquish, who noted the former first lady also had phlebitis, which led to her becoming an invalid.
In 1901 the first couple traveled to Buffalo to attend the Pan-American Exposition.
President McKinley was in a separate hall from his wife when he was shot twice. He did not immediately die and "...clung to life because he was concerned for his wife," according to Jaquish.
The president died eight days after the fatal shots were fired and Mrs. McKinley lived another six years before joining her husband's side in Canton, Ohio.
"These first ladies are a marvel," said Jaquish.
She told the Nouvella group she is impressed with what the former first ladies lived through and all they were able to accomplish.