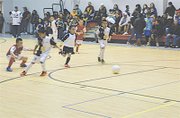 Sunnyside's Parks and Recreation held its first indoor soccer games this past Sunday at the community center.
The ages of the children on the teams ranged from 5 to 14 years old. The action started at 7 a.m. and lasted until 10 p.m. with 10 games played over the course of the day.
"It was so much fun to see families supporting their children," said Trish Combs, who is leading the effort to provide indoor youth soccer at the community center.
"It's nice to have teams from Pasco come to Sunnyside and we look forward to this positive project highlighting our community as a positive community," she added.
Combs said spots are still open and people can contact her at 509-837-1570 or via e-mail at unlockyourdreamstoday@gmail.com.
Combs is also issuing a challenge to the service clubs in town to volunteer for parks and recreation programs to make a difference in the lives of the children of the community.