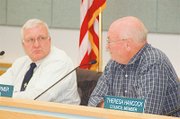 Facing a $1.6 million shortfall and a switch from a two-year to a one-year budget cycle, the Sunnyside City Council is taking its time in drawing up the debits and credits for 2013.
Last night, Thursday, council held its fourth of seven budget workshops, which included a focus on the jail's proposed revenues and expenses for 2013.
Up until recently jails were big business, with Yakima County and municipalities in Western Washington building new jails.
Andrew Gutierrez is a sergeant for Sunnyside's corrections department, and last night he told council that "gold rush" era of jail income is long gone.
In 2010, for example, Sunnyside's jail generated revenues to the tune of $876,400 but in 2011 the figure dropped to $445,638.
Through the end of September of this year jail revenue was at $207,830 and in 2013 Sunnyside jail income is expected to total $277,000.
A big reason for the decrease in jail revenues in Sunnyside is that the U.S. Marshals are not keeping prisoners here. Revenue from holding federal prisoners has dropped from $774,360 in 2010 to $181,474 through September 2012.
In response, Gutierrez is proposing to cut expenses at the jail by $72,100. It's a help, but not enough to offset an anticipated $448,500 shortfall in the jail budget.
That's more than a quarter of the city's overall budget deficit heading into 2013.
In cutting the jail budget from $797,600 in 2012 to $725,500 next year, Gutierrez is primarily finding savings by sending fewer inmates to Yakima County.
In 2011 Sunnyside paid the county $103,031 to hold its inmates, but a policy change this year in not confirming warrants with the county jail has dropped the total to just $16,204 through the end of September.
Gutierrez is proposing to spend $20,000 with the county jail in 2013, while the budgeted amount for 2012 was $60,000.
The city jail is also saving money by serving inmates freeze-dried meals for breakfast and lunch, instead of ordering food from Cisco. The meals meet all nutritional guidelines, but are self-contained and require no dishware to clean up.
Gutierrez said the anticipated cost savings is $25,000 for 2013, and could be more but the jail doesn't have a convection oven to serve the freeze-dried meals for dinner.
Since the savings would pay for the oven right away, council by consensus authorized jail personnel to begin looking for a convection oven.
The Sunnyside City Council's next budget workshop will be on Tuesday, Nov. 27, at 6:30 p.m. in the Law and Justice Center. It comes the day after council's next regular meeting, set for Nov. 26, at the same time and place.