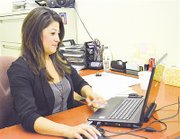 Marie Elena Guerrero has always aspired to help others and chose to seek a degree in social work with the idea that she would be working for the Department of Social and Health Services Child Protection Service.
However, when working to earn a Master's degree, Guerrero had to find a practicum placement and was hired by Nueva Esperanza in Pasco.
That led her to discover there are many other areas of social work available for someone with her credentials.
Guerrero obtained the credits she needed to earn state certification as a social worker while working for the non-profit agency in Pasco.
When she and her family moved to the Sunnyside area, Guerrero decided she wanted to operate a business that provided resources for those who have a chemical dependency. She opened Innovation Resource Center in Sunnyside, where she provides counseling services and referrals for those seeking help for their drug or alcohol abuse issues.
"It's rewarding to see an individual complete the program," said Guerrero.
She said many of her clients express a sense of accomplishment once they have completed a prescribed program.
At the beginning, an individual may be in a state of denial, believing they do not have a problem. Guerrero said those who don't believe they have an issue are sometimes confrontational.
"They don't believe they need treatment," she said, stating many of her clients are under a court order when they seek treatment for a drug or alcohol problem.
However, those who follow that court order find there is a sense of freedom in the realization that they have a problem, are able to better manage the problem and can have a renewal of sorts.
Guerrero said her clients, having fulfilled the obligation to the court, no longer feel that burden. They also might be able to obtain a driver's license, if it has been suspended or revoked.
However, the best part is when there is healing in the clients' lives and relationships.
"Some of them may have lost jobs, friendships and families because of their dependency," said Guerrero.
She said it can be difficult when a client relapses or chooses not to follow through with the prescribed program.
"They have to go back to court and face many consequences for violating probation," said Guerrero, adding the individual may face jail time and/or have to start the program over again.
She admits it is also difficult to see a client relapse on a personal level because she knows chemical dependency can be self-destructive.
To determine the treatment that is best for each individual, Guerrero conducts an assessment. The results of the assessment determine whether the individual needs counseling from her, in-patient or out-patient treatment, and if the client should be referred to another service.
"If there are scheduling conflicts for out-patient care, the individual may be referred to another agency," she said.
Of her chosen career, Guerrero said the rewards are many and she is seeing the field opening up, especially with health care reforms being enacted.
"Also, more people are recognizing a need to seek help for those with addiction issues or concerns," said Guerrero.