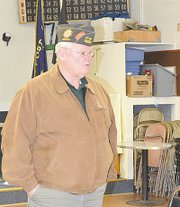 The Veterans Administration is responsible for the funding that helps Veterans of Foreign Wars posts provide a variety of services, and it was VFW Past National Commander Richard Eubank this past Saturday who told the Sunnyside VFW members, "Everyone has to buckle down."
He and several members of the state VFW stopped for lunch at the Sunnyside post on Saturday.
Eubank told the VFW and auxiliary members the fight on their hands involves getting the message out to the younger generation that the VFW is here to serve them.
He said, "We're here to make sure they are taken care of."
Eubank said the members of the VFW and its auxiliary have fought, but the fight continues as there are still men and women at war. The battles, however, aren't just overseas.
"We must defend our hill," he said, noting the war at home is being waged to ensure funding is available for VFW programs.
"If they (the Veterans Administration) want to take our money back, they're going to have a fight on their hands," said Eubank.
He said it is the responsibility of VFW and auxiliary members to make sure the troops are cared for when they return home.
"We need bullets on both the comrades and ladies side," said Eubank, noting membership in the VFW is an avenue for fighting the budget battles.
Washington State VFW Commander Krist Huseby said he is grateful for the efforts of the auxiliary members.
"It's often the women who are the backbone of a post," he said.
Senior Vice Commander Ted Streete agreed, stating the auxiliary members are often responsible for honoring the heroes of the nation.
State Department Junior Vice Commander Fred Green said it is important that the VFW and auxiliary members seek ways to reach the community.
He believes reaching out to the youth in the community can help bolster awareness regarding the purpose of VFW. He also believes it may be an avenue for building membership.
"Touching the lives of the youth will get them to go home and share what the VFW is doing," said Green.
Corky Bethiaume is the VFW state adjutant and he said it is also important to reach out to current members, who are an aging group of individuals.
He suggested calling current VFW members and inquiring about their needs.
Eubank said the battle for funding begins at home and he believes there is a purpose for the VFW that is worth fighting for.